You are here :
Home
>
Pictures and tips for a good travel
>
Bulgaria
>
Nessebar
Nessebar
Peninsule in the southern coast of the Black Sea. This place is very touristic but it's still nice to visit. Everything is made to entertain tourists.
We start from the entrance, with the remains of an ancient castle and a little harbour :
Then, we visit the streets and monuments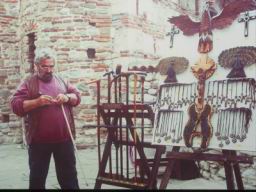 The highest listed restaurant in the "Routard" guide : the Kapitanska Sreschta restaurant !
Added to the fact that the restaurant is really good, the waiter speaks very well several languages and is very talented: is able to make you order the most expensive dishes and also the wine, even if youldn't take it. It took some hours to make us understand this. So be careful: his charm is formidable, especially for the women. So, if he continues suggesting a fish saying that they just catched it, and that they don't have another one, which is on the menu, be careful. Surely they have all the fishes which are on the menu, because all the restaurants around have them...
Then, some other photos taken in Nessabar. There's also the one of our room (in a local house). It was really charming to stay there, but you have to be careful with the gulls: they're a bit noisy in the morning.