You are here :
Home
>
Pictures and tips for a good travel
>
Egypt
Egypt
"Egypte , a Nile cruise, a stay beside the Red Sea ..."


When you say to somebody: "i go on holidays, i'm going to Egypt"... even if the other already went there just for a shor time, he'll surely say: "You'll see, it's really cool, unforgettable, ..etc" So we're scared that all this positive advertising can disappoint us once arrived there.... But not! Egypt is really "super, cool, unforgettable,...Beauiful..."
A Nile cruise, it's relaxing. But the rithme is often steady: because of the will to visit the most interesting sites, the alarm often rings at dawn... In short, it's better to start the trip with a week cruise, spending most of times visiting monuments and places, and then to pass the second week relaxing on the seaside...

Ship diary :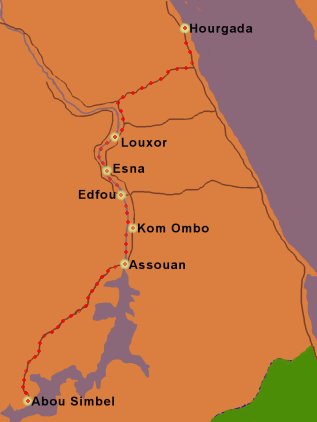 The tour offered are generally included in the total price of the cruise:
Karnak Temple , Kom-Ombo Temple , Philaé Temple , Edfu Temple ,
City of Assuan and the dam, The valley of the kings and of the queens (with the Memnon giants and the craftsmen village),
botanic island , nubian village, desert and nomadic caravan (quite traditional !)...

Then there're some charged extras: Abu Simbel, Sound and light show in Philaé or Karnac (just do one!)

And what about pyramids ?
---------------------------------------------
Almost all the Egyptian cruises leave from Luxor, go down to Assuan, and then they go back..
Not pyramids at all along this way. They are situated in the Cairo region.
Usually you've to plan to pass some days in Cairo to visit the main museum and the pyramids, and you can do it during the second week of your stay. We had the possibility go there for 2-3 days while we're in Harghada (during our 2nd week), but we had preferred to stay on the beach watching the fishes !
At least we've an excuse to come back to Egypt ;)

Practical infos
------------
- For all those people scared to get fed up in the boat, don't worry, you won't have the time!
Anyway the times of navigation are always welcome. They let you rest a bit after the tours make you discover the beauty of the Nile seaside.
- Forget about lazing and not doing the planned tours,
(unless to report sick !),people on the boat are nice but they don't like it very much !
Moreover it will be a pity to miss a good tour.

Usefull infos
-------
Personally, i brought with me a small thermos containing a water bottle. Everytime i made a tour i felt glad to have it with me. There's nothing like a bit of fresh water under a blazing sunshine.Think about it!!! It can save a tour !!!
Of course, the surviving equipment also consist of a hat or a cap, a sun cream and sun glasses !!!
I also show you Aude's pics, who made a week cruise of Nile too
And here's some meteo infos :
| | | | | | | | | | | | | |
| --- | --- | --- | --- | --- | --- | --- | --- | --- | --- | --- | --- | --- |
| Cities | Jan | Feb | Mar | Apr | May | June | July | Aug | Sep | Oct | Nov | Dec |
| Cairo | 19 | 21 | 24 | 28 | 33 | 35 | 35 | 35 | 32 | 30 | 26 | 21 |

average of daily maximum temperatures in°C (see the temperatures in the world )
LEGEND :

| | |
| --- | --- |
| | very favourable period |
| | favourable period |
| | less favourable period |
In Egypt, along Sinai coasts, from Sharm El Sheikh to Marsa Alam, between the sand of the desert and the reefs. Herode denifdefined Egypt as a Nile's gift.
Lots of tourists choose to visit the archeological sites of Luxor, Karnak, Philae et Abu Simbel, cities full of villes parfumes, colors and sounds. Others prefere the majestic silence of the desert.
Next to the coast, scenery changes, showing mountains, gorges and steep coasts.