"nice hotel in Kissamos-Kasteli"
Located in the western part of the island , in the department of La Canée (Chania or Hania).

At 35km from La Canée, there's a good point of departing to visit the western and north-western beaches of the island.
Originally, the city of Kasteli was named Kissamos or Kisamos (according to the guides).
This hotel is really peaceful. It's placed at about 5-10 walking minutes from the city centre and the little harbour. Talking about restauration, you'll have a buffet breakfast. Apart from this, the only have some snacks, so i suggest you to have both lunch and dinner somewhere else. You've to go to the centre if you want to find some nice place to eat.
Because they just opened, everything is new. Only, the didn't finish everything yet. The experience of the owners and of some employers are not so old as well. The owner, she, is very nice and kind, always ready to listen the needs of their guest and to give them good advices. She was really pleasant. If i enjoyed my stay i owe it to her. And if you pass by, you could say hello to her from a lost lonely french, who was used to take a lot of pics and who annoyed them in mayi 2003.
The manager, on the opposite, doesn't look after his guests very well. Don't expect anything pleasant from him. One example : he gave e a room with a view on the works. They just opened and there still were some works !!!
here're some photos of the swimming pool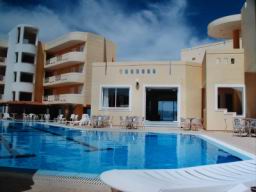 And a late sunset on the golf in Kissamos taken just in front of the hotel. Be careful to the beach, you'll have to walk (qsome hundreds of metres on the left or on the east) to find a little of sand...