The essential ones of the voyage
Subscribe to the newsletter (5 times a year max.)
Sites partenaires

| | | | |
| --- | --- | --- | --- |
| | Select your destination | Follow us on twitter | Click to enlarge |
(Updated : 24/01/03)
Atmosphere of the hotel Brisas Del Caribe : Bars, restaurants and swimming pools 24 hours a day.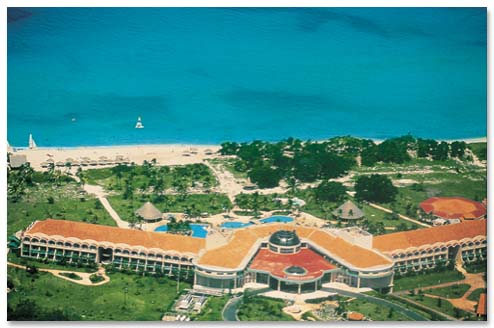 This hotel, Brisas del caribe, it's for me one of the best destinations in Varadero (the most touristic place in Cuba). Moreover, i think that is also an excellent starting point for visiting the country. On the other hand, you'll absolutely have to rent a car to go to Havana or to cross the country (for example to go visiting the crocodile park). The only flaw of the hotel is its distance from the southern part of the island. Infact you need to take the plane to visit, for example, Santiago de Cuba.
| | |
| --- | --- |
| Before | Now |
| | |

The hotel is really complete, bars, swimming pools, restaurants, .... and the comfort is excellent. The staff is very nice, always smiling and especially when you let yourself go. And you don't have to hesitate to do it. They love when we start to follow their "foollies". The atmosphere is great (on condition that you take a little part in it). The thing that amazed me was that for the first time i saw all french people (which were all there to relax theirselves) ready to have fun and live it up (all-inclusive package surely works. Do you want more from holidays? Not even a hung up, like somewhere else. You should have seen the mess we made certain days. :) Surely, always in the good mood and with the right ambience. Some people i met we're having much fun that they almost forgot to take the plane for coming back.... English people were the only one not to appreciate it. Or else, Canadians people loved the fact that there were no Germans which liven things up untill 5 a.m. and don't let you sleep.
For example : Grandma's birthday- Grandma, more than 70 y.o., on the piano of the piano-bar a 70 ans passés. The same day, a couple of canadians got married.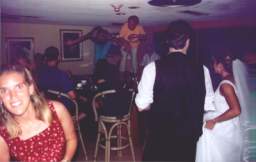 To continue speaking about the hotel, i think is the one where you can find the highest number of frenchs, and this is not bad at all. Attention, when i say that we're more numerous than in the others hotels it means that we're around 60, when the hotel accomodated 600 persons in total. (1100 people during high season between July - August). The other hotels are surely less warm.

The hotel has a main building (divided in 2 wings) and a kind of residence, which consists of set of buildings surrounding a swimming pool. The rooms of the main building are not all the same: you've to choose the highest floor as you can, and don't hesitate to try to make them give you another room, if your air-conditioning doesn't work. The 3rd floors (the highest) is perfect, the 2nd has a bit of problems with the air-conditioning and you've to avoid the ground of the right wing (air-conditioning, creepy-crawlies,...). This building is about ten y.o. and they're renovating it completely little by little..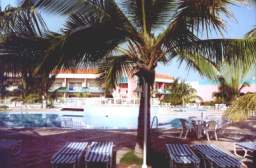 The residence is completely new and really quiet. The only disadvantage i could see is: it's about 100 metres,but when you to cover it under a storm, it's annoying. Especially if it's aperitif time...And if it's july you've lots of possibilities to have the same experience. On the other hand, they almost never arrive during the day. I also tried to ask for a lift to the main building but the only things i obtained was an umbrella. Let's see if you can do better!!!
Some photos of the swimming pools :
As you can see , the vegetation is really flourishing.

The gardeners made a really good job and everybody went there can tell you that the gardens are very agreeable. Anyway pay attention to themosquitos. It's their territory.

And the swimming pools can satisfy everybody..
And here's some views of the beach
In any case i strongly reccomend it.
Maybe you could think that this hotel can be too noisy and messy, but on the opposite it's so big that you can always find a quiet corner, even if a group of party animals decide to liven the thing up. ;))
The hotel BRISAS DEL CARIBE **** is located on 400 metres of a white sand beach, it's 20 minutes from the center of Varaderoest and about 2 hours from the airport of Havana.
ACCOMODATION : 440 rooms, 174 of which are new, divided in 5 buildings of 2 floors : 2 single beds or a double, air-conditioning, television-satellite, telephone (chaged), radio, safe, bathroom, coffret de sûreté, salle de bains complète, hairdryer (on request to the reception), balcon or terrace.
ALL-INCLUSIVE PACKAGE::
- breakfasts, lunches and dinners (buffets),
- dinners at the restaurant à la carte, on reservation,
- national and international drinks 24h a day, champagne
- room service 24h a day
- courses for beginners:
* 3 times a week: nautical ski and diving without breathin apparatus (on reservation),
* 3 times a week: scuba diving (on reservation),
- windsurf, kayak, catamaran, pedalo,
- 2 courses de tennis enlightened, volley-ball (beach and swimming pool), basket, table tennis, billiards, board and electronic games, sauna, jacuzzi, gymnasium ,lessons of dance, aerobics and spanish, pétanque, mini-golf, sport and dance competitions,
- bicycles, motorcycles (1h30 for person on reservation, limited availability),
- daily program of entertainments, night shows, piano-bar and karaoke,
- excursions : Rio Canimar and tour by boat at the sunset (on reservation, limited availability),
- massage (on reservation).
SERVICES, ACTIVITIES, SPORTS AND LEISURES :
- restaurants : buffet, à la carte, barbecue on the beach, cafeteria 24h a day, 8 bars 1 of which on the beach and another one on the swimming pool,
- shops, postal service, tourist office, exchange office, infirmary 24h a day,
- upward parachute (with a charge for admission),
- a beautiful beach and 4 swimming pools with fresh water with a section for children's only ; deckchairs, towels, 3 jacuzzis.
SPORTS AND ACTIVITIES With a charge for admission:
- upward parachute,
- Massages.
MINI-CLUB : For children from 5 to 12 y.o. Daily program of activities.
GOOD TO KNOW:
- only children who are more than 5 y.o. are accepted. The price for children concerns a child from 5 to 12 y.o. sharing the room with his paents.
- a free photo is given to the custommers during their stay,
- men have to wear long trousers during the dinner,
- languages spoken: spanish, english, german, french and italian.
All-inclusive package : the package indispensable for all those who want to pass some cool holidays without problem.
last two advices :
The hotel offers 2 cruises.Don't miss the "sunset" cruise, because it's really nice and don't forget to try the lobsters on board (obviously you'll have to pay for it).They're delicious!
For having an aperitif in a comfortable atmosphere: take away some chips in the snack-bar (restaurant of the residence) and go to eat them in the main building, enjoying an aperitif .You can also find there some really good appetizers.
Otherwise, you can always go to the shop in the main hall, but be careful: prices are very high.
Not completed list of the trevel agences which propose this hotel :
Nouvelle Frontière - neckermann - aquatour - http://www.sunsnacks.be

Useful numbers
This hotel belongs to the chain 'Brisas Hoteles' managed by the group Cubanacan and here's the most official page i could find .
Carretera Las Morlas, km 12 ½, Varadero
Matanzas.
Tel: ( 53 5) 66-8030
FAX: (53 5) 66-8005, 66 8120
E-mail:ventas@bricar.var.cyt.cu

Take part in the design of the site inooi.com by sharing photographs and councils on a destination which marked you. Do not hesitate to contact me. I deal with all.