You are here :
Home
>
Pictures and tips for a good travel
>
Malaysia
>
Langkawi Islands
Archipelago of Langkawi
Located in the north-western part of Malaysia
The archipelago of Langkawi is composed of 99 islands, situated at 51km west from Kedah. The biggest island mesures 25km from North to South and a little more from Eest to West.
Just four of them are inhabited : Pulau Langkawi, the main one, Pulau Tuba, Pulau Rebak and Pulau Dayang Bunting.
If you arrive from the south of Thailand, you can easily go there either by boat or by plane from Saturn (Thailand).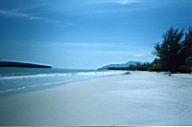 because there're no beaches, here're some pics of the interiour part of the islands.
But of course, they're still wonderful beaches.
Some of them are open just for tourists and especially for divers. In fact, the sea bottoms are wonderful, even if they deteriorate really quickly. If you're interested in diving, you can approach for making a dive without breathing apparatus or with cylinder.
Some sea bottoms, with puffins, butterfly fishes, stone fishes, black point sharks, a baracuda and many others sea animals... and of course, corals or coral spurs on the bottom.
On another island, the docking pontoon where get ready for diving.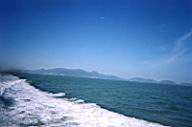 Then you just have to enjoy it
After the coming back to the main island and to the country
About the weather, you've to be careful to the monsoons in july and in august. The best periods are january and february.