You are here :
Home
>
Pictures and tips for a good travel
>
Panama
>
Canal de Panama
Canal of Panama

Here a small outline of what which is this mytic channel is Panama Canal. The construction of this last, in parallel with the construction of Panama Canal Railway (railroads of the channel of Panama 1855-2001) began in the neighbourhood from 1859. The way of railroad was used to transport building materials of the channel.
On each edge of the channel are odd machines which go up and go down to the liking from advance from the ships in the channel. In fact engines are used for drawing and guiding the ships which borrow the channel.
The channel, one of largest in the world with that of Suez in Egypt, allows the inland waterway transport of any kind of materials and people. In spite of its gigantic size, the steamers and the container ships is there has the narrow one. You will notice space between the edges and these immense ships.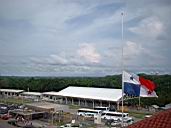 To prove the size of this channel to you, here a photograph of lock with a man to show the scale.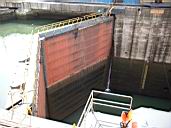 A door containers from goes away, a steamer arrives. Just time for him of alligner and veiled it aspired or drawn by the engines until the other end...