You are here :
Home
>
Pictures and tips for a good travel
>
Brittany
>
Morlaix bay
Morlaix Bay
retrouvez sur Google Eatrh, the aerial view of Morlaix Bay. (télécharger Google Earth gratuitement)
Here we are in the boating harbour of the beautiful city of Morlaix. You absolutely have to visit it (you can check the link on the left). Meanwhile we leave from the harbour and we take the direction of the Channel following the river of Morlaix.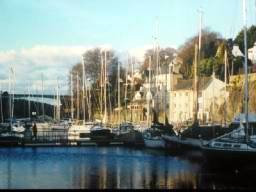 Then, we take the coastal street to go to Carantec. But to begin with, let's take another look to the wonderful harbour, full of boats.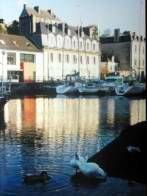 The street is steep, so if you're the one to drive don't be distracted by the scenery and rather watch its photos after... But remark the wonderful colours and reflections.
After some kilometres, you'll arrive to the river's mouth (that is the Morlaix Bay !), where you can see a small village really nice, with its little fishing harbour: Dourduff en mer.
Here're some views of the harbour, and as you can see there're always lots of boats. Besides, if their bow is in the direction of the sea, it means that the tide is increasing, otherwise, it's decreasing.
| | | |
| --- | --- | --- |
| | | |
| The little harbour of Dourduff en mer | | Close view on some oyster farmers of the Morlaix bay |
If you continue, you can find a multitude of small islands, one of which host the famous castle of Taureau (bull).
Then, going on in the same direction, you should arrive in England but because i don't have any pictures yet, i'll stop here.