You are here :
Home
>
Pictures and tips for a good travel
>
Brittany
>
Port of diben
Diben's harbour
Sorry for the pictures: it's normal if you can't see them. You shouldn't always believe in Parisian journalists.
In this pages there're just few comments because there isn't so much to say about this little harbour, except the fact that you can take some really nice pictures.
As you can see the water of the bay is very calm. Sometimes there're few little waves, which move a bit the water.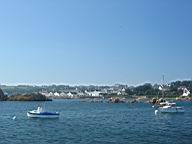 Walking along the dike you can meet some tourists, some regular visitors and obviously some fishermen which arrange their boats for the day after.

A very quiet activity: the fishing.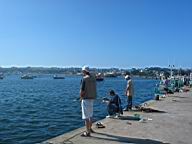 Then, some view of the dike or the seaside.
If you think that the pics are not so bad, here're some more...