Here some photographs of this splendid bay, taken in the triangle Phuket , koh Side Yi and Koh Yao.
I would not make you offence show Khao Ping Kan (James Bond island). This very known island to have been used as decoration for this film. It is quite simply a buffoonery. Maintaining like all the rock pitons of bay, that remains impressive nevertheless.
To start, a small sight of the sky to see approximately what the north of bay resembles. It is noticed that the more one goes up towards north and the closer the islands are from/to each other. Here impossible to lose itself while sailing.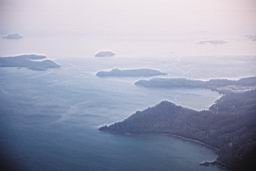 On the sea level, it is impresionnant. There are rocks (islands) everywhere. But more impressionant is their height. One is really very small with with dimensions.
| | | |
| --- | --- | --- |
| | To imagine the height, it is as if you were with the foot of a building of 60 floors | |
The more one goes down towards the South, and the more space increases. Then place with the ocean
Most of the population saw sins in this area. Then do not hesitate especially to buy fish or shellfish which the fishermen will propose to you. They do not hesitate to approach the tourists who pass in the vicinity.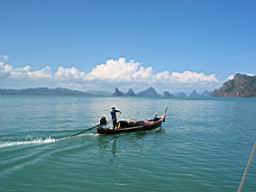 Bay of Chalong - place of damping of our boat between 2 cruisings. If you want to traverse this bay, as well as the sea of Andaman in the naviguateur/aventurier spirit of Sunday, I advise you cruising at sea of Andaman proposed by the UCPA.