You said holidays, tourists, young people, diving, sun?
In fact, these some words summarize this island rather well. It is the paradise for tourists. The Chinese thailandais(ou) there come for very short stays and unload by whole boats in middle of morning. They are confined with the most beautiful hotels of the island. The other main category of tourists are young Europeans. All is done there for them. The number of bars and restaurants is impressive, the night life is very developed. For the day, really sympathetic beaches, sun and many sites of diving. Addition with that much of residences not expensive (small bungalows or rooms), of the completely accessible price...
An example of entry of hotel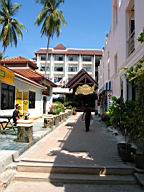 The 2 principal parts of the island are in my opinion the 2 bays of which ' ton sai bay' for Southern bay and ' loh Dalam bay' for Northern bay. In the South, there are losts of boats. Some times, it is very noisy because of large number of boats that go or come to/from their tour
The northern bay (at 5 minutes) is on the other hand a beautiful peaceful beach, or it is good to rest.
Between the 2, tens of shops, restaurants, bars, cybercafé... clubs of divings every 20 meters, shows of massages of feet every 30 meters, one finds there of all.
Some photographs of tone say bay
Loh Dalam bay : the north bay
Some sights of the small streets ...