You are here :
Home
>
Pictures and tips for a good travel
>
Other
>
Motor Bike
Motor bikes & motorcyclists
Information and blows of mouth
My ' première' motor bike: a Honda, Ca does not refuse:)

notice the leather jacket associated with the motor bike.
My first motor bike: Yamaha Diversion 600 (which finished out of cans)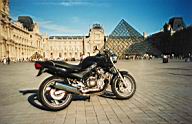 My old (in any case, older than I thought it) motor bike

See description supplements this GSX750 inazuma
My small last: Yamaha YZF600 R6
And veiled, the history continues. My small last has just flown away. Fortunately I had time to test it on circuit. And which happiness. But this morning of September 23, 2004, plus nothing. It would seem (enough strongly) that a person rather not very scrupulous borrowed it to me without asking the permission. All information on the small monster .
Behavior of the motorcyclists : to see a small article which proves that we all are not of insane handlebar.
The FFMC : federation of the motorcyclists in anger.
And a small blow of inch for a magazine sympathetic motor bike. You will find the dimension of the argus there. But attention, even if they are a little skinflints, it is that which prefers the mechanics:)