Vous êtes ici :
inooi
>
Photos et conseils pour les voyages
>
République dominicaine
>
Boca Chica
Boca Chica,
and its magnificent beach
By day, it's a really nice and big city. The main street (cale duarte), parallel to the beach, is separeted from the sea by a barrier of shops, bars, restaurants and discos. The inhabitants are really welcoming and never aggressive as in other places. The very numerous motoconchos (moto taxi, dangerous if used from more than 3 persons) will always offer you to give you a lift, but you just have to turn the head to make them go away.
By night , everything goes wild !
Its appearance of sweet and quiet city changes and turns to a total perversion. All the city lights up, the music arrives in the streets (some really nice concerts ), ... but you can't find even a "normal" girl (except the 2 or 3 tourists which get lost): the city is invaded by prostitutes. All the bars (about ten) and the clubs become places to meet girls, real meat markets.
The beach of Boca Chica
| | |
| --- | --- |
| | ¨Passing trough this beach from West to East , we start with a really local side. There're not a lot of tourists but it's also the departure point of the sea scoter rentals. |
Then, we arrive to the private beach of the Dominican Bay hotel
Because the beach of Boca Chica is the Saint Domingue main beach, the local population guarantees you a very warm ambiance , with music and alcohol...
We go on to Hamaca hotel...

The restaurant Brisa Del Caribe

(not to mistook for

Brisas Del Caribe hotel in Cuba

), suggested by the Routard Guide because of its wonderful crayfishes. Honestly, we didn't try it because of its high prices!

After Hamaca hotel, there're no more beaches strictly speaking. We can just "see" the sea by the gardens of the amazing seaside houses.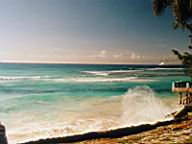 And to finish speaking about this city, here's a very nice restaurant: 'La Langosta' where you could try some really good and not so expensive crayfish . Apart from the food, you'll appreciate also the welcome and the very agreeable scenery: a big terrace surrounded by vegetation, with a great view on the sea.
The other side of the beach, the village
Preparation of some fresh fish for the restaurants which are along the beach.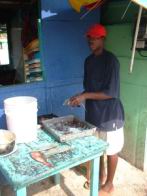 Some extra pics of Boca chica beach, to give you the possibility to better imagine that place.
A view of 'Cale duarte' by day, if i remember well. A street really ordinary...