You are here :
Home
>
Pictures and tips for a good travel
>
Dominican Republic
>
Dominican Bay hotel
Hotel Dominican Bay 3***
in Boca Chica (photos between the 27th january and the 11th february 2003)
The dominican Bay it's a standard hotel and it truly deserves its 3 stars. Its main characteristic it's to be composed of two parts : the first one includes rooms,bars, restaurants, swimming pools,… and it's within 5 minutes' distance from Boca Chica city centre. The second one is on the beach and it consists of a private beach, a restaurant,a bar,… (for further information click on « next page » just below or use the menu on the top left).
There's a private path which connects the 2 parts ; counting also the staircase and the footbridge, it's about 400 metres long. It's confortable and pleasant as well.
The hotel, which contains 437 rooms divided between 19 buildings, it's really agreeable. The cool thing is that the buildings aren't higher than 2 floors , so you don't have the feeling to be in one of those awful giant touristic complex.
Inside the commercial centre (not really big,to be honest) there's a small tour operators office (ex :« Avione ») : it's very interesting because you've also the possibility to confirm your return flight there.
To all the party animals : the timetables of bars and restaurants are a bit strict : it's impossible to have dinner between 10 p.m;and 11 p.m. and also to drink something different than water after midnight (unless you go to the bar on the beach, the only one night open). But since there's not much to do after midnight, it doesn't matter.
The rooms are clean and in good conditions. Now there is just a bit of rust around the finishes of the old bathtubs, or at least it was like this in our room, which was situated in one of the buildings (the 14th) still not renewed. On the other hand, in the new building everything is in perfect conditions.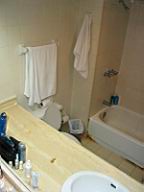 What can we see from the hotel ?
The hotel is costituted by 2 parts. The beach part actually is just a snack bar with a private beach. There's also a conference room but i think it's for private use only.So there isn't a really special view, save the one of the beach by day.
The main part is made up by 2 swimming pools, around which are situated the rooms. It's easy to guess which view you can have on the swimming pool side!
The main swimming pool by night .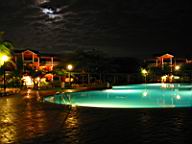 I've to say that some buildings look into a small street (one of those you have to cross to go to the beach) and some people have complained about it ! Sorry, but i can't either confirm or deny. In the other buildings the view isn't extraordinary, but it's still ok (there's nothing which can disappoint you). see the following pictures

They're 4 and they're well distributed in the area. The staff is often smiley and nice. The fizzy drinks are Pepsy's, the fruit juice is not home made (besides you can't find a natural fruit juice in the hotel, not even in the bars or during the breakfast...), otherwise they've beers and standard international cocktails.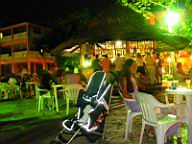 There're 3 restaurants, the main of which is the "Hibiscus".
It serves free buffet during normal hours and it has 2 big smoking rooms and 2 small no-smoking rooms.The food is hearty but the quality is not very high.We skipped some meals without problems. Anyway, even if it's tiresome it's not disgusting.If you have to stay 3 months you'll surely want to change a bit, but for a short trip it's absolutely reasonable.And you've also to know that it's almost impossible to find an holiday club with an excellent food.
From 11 p.m. , the snack bar on the beach will offer you sausages and steaks to make hamburgers. But it's impossible to eat between 10 p.m. and 11 p.m.!
I can't say more about the 2 other restaurants because we didn't have time to go!
The gardens are really well-kept (see pics above).
entertainment team and the night outings in general
And here's a small part of the entertainment team of Dominican Bay,always ready to liven things up.
You've to know that almost every night the entertainment team will propose you to go clubbing (because the hotel hasn't one), either to Boca Chica, in the disco of the hotel Hamaca (also known as "the Casino"), or to Saint-Domingue. In any case, it sucks. They put you in a cab and they disappear. No more news from the leaders (especially from Louis).
Because in almost all the discos of Boca Chica and Saint-Domingue (we did saw lots of them :) ) they nearly play only local music, it's not easy for the tourists which are not really able to dance merengue to invite some locals and to get integrated.
In Hamaca's disco nobody dance during merengue or salsa pieces, which represent 8 titles out of 10. Drinks are unlimited but the waiters are always busy !!! If you either have a really high voice, or you speak spanish, or you are extremely beautiful, surely you'll be luckier than us.
In Boca Chica's main club -the Cosmos- they play international music during the week. Not even there people dance ! Who would dance in a meat market (i'm speaking about the girls who were there....), apart from some crazy people like us? Anyway, being three on the dance floor we couldn't complain about the scarcity of space at our disposal.
On the contrary, you absolutely have to see the disco in Saint-Domingue (the other one suggested by the entertainment team). It's a giant cave. To arrive to the 3 dance floors which are at the bottom, you've to go down several terraces on which are placed the tables. You can see the dance floors from every point. A real auditorium. The setting is wonderful. On the other hand, if you'll go there on sunday night you won't find anybody.
Also the "Show Biz", another club in Sainte-Domingue, it's really wonderful. There's a strict dress code: elegant outfit is required. Sometimes you can find international music there. Girls are really beautiful and, according to certain rumours, boys are too. alot of important families go there to take a drink.
...
Last suggestion : there's a riverside cafe in front of the olympic stadium (east side). You've to go there on sunday afternoon, around 6 p.m. Local concerts, really typical ambience,...Great. On the other hand, no tourists at all (except us, as usual).
Mini disco
There'are always a lot of children. The night of ou departure there were 5 children in the mini disco. There're some dance shows especially for children,and some are organised by the children themselves (they dance with 2 clowns). This kind of shows starts at 8 p.m. in front of the small swimming pool.
After the mini-disco there's a course of merengue, which we diligently followed :)
For information, the song of the hotel (and not only of this one!) is "Como tu" of Chayanne. A perfect piece to immerse into the local atmosphere.

Description of the Hôtel Dominican Bay 3*
Location :
It's situated in the charming fishermen's village of Boca Chica, and it's surrounded from many small restaurants, bars and shops.
It's within only 35 minutes' distance from Saint-Domingue.
The club is in front of a wonderful white beach 400 metres long, bordered from a magnificent lagoon beside the Caribbean Sea.


Accomodation :
The rooms are nice and spacious; they're all provided with bathrooms, satellite television, air conditioning, telephone, safe (not free of charge) and a balcony or a terrace with a beautiful view on the swimming pool or on the luxuriant tropical garden.

Restaurants :
Your "all-included " package permit you to accede to all the restaurants of the hotel. The main restaurant offers you copious and coloured buffets. A good quality international cooking go with a caribbean one.
Two restaurants "à la carte" (the first time the reservation is required, the next times is - 20 %). Near the swimming pool and on the beach 4 bars and 2 barbecues are at your disposal. don't forget to try one of those amazing tropical cocktails under a coconut palm...


Equipments and activities :
Private direct access to the beach, 2 swimming pools.
Every day a large programme of entertainments and daily and nightly activities will satisfy also the most exacting people: tennis, volley-ball, cycling, bord games, sailing, windsurfing, snorkeling, courses of diving int the swimming pool. There is also a commercial centre.It useful to know that some activities have a limited number of places.