You are here :
Home
>
Pictures and tips for a good travel
>
Mexico
>
Cancun by plane
Planes and Airports
Now that low-costs travels are proposed by all the travel agences and tour operators, there's no more reason not to try them. If you didn't do it yet, here are some pics which show you what you can see during a transatlantic flight on board of a big plane and of a smaller one which could seat 6 persons (included the pilot).
Take off from Paris Charles De Gaule to arrive in Cancun in Mexico
The flight time is 10h and it depends from the weather and the direction taken. The sun winds which blow from West to East make the return from America to Europe faster.
Then, we flew over Bahamas, Bermudes, San Salvador islands, at a speed of 710km/h , an altitude of 11690 metres and with -55°C outside the plane.
Take off from Holbox island to go to Cancun
On board of our small 6 seats crate (450$US to go from Holbox to Cancun), during a wonderful 25 minutes trip.
(To visit Holbox island with its beaches, hotels and fine sand alleys)
The airport isn't much to look at, a kind of football ground at the side of a path.
Ready to go, we cling to each other beacuse the take off is more difficult with this peanut than with a 300 seats plane.
And finally we arrive in Cancun, where some BIG planes are waiting for us to take off. :)
Then, on the landing strip we ralized how much small we were !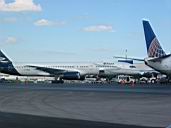 Over-booking
A very common practice for flying companies. This consists in selling more places than those available in the plane, to cut the prices and offer less expensive tickets. This permits to increase to percentage of filling of a plane, because there're often some withdrawals of the passengers. Otherwise, whene everybody turn up, there're some problems ! In this case, somebody won't leave or come back on time.
In this case, the companies propose to generously compensate the passangers. For example 300€/person for a flight Panama-Paris with Iberia company. The problem is the delay in the payment. For a flight Panama-Paris via Madrid, 6 months after, they didn't pay yet! ... Here it is, some days after, which means 6 and a bit months, Iberia refunded all the persons of that flight. According to the company, the delay was dued to the installation of new Iberia offices in France. To be continued....