You are here :
Home
>
Pictures and tips for a good travel
>
Mexico
>
Cancun Town
Town of Cancun
Located at the North-eastern point of Yucatan
I will not show you here celebrates it beach with tourists American. Only 2 photographs of this very large city, built with American and or it does not have there, in my opinion, great a deal to be seen.
The zones which resemble checkerworks, or very tight rows of I do not know what, are many zones ' pavillonaires '.
Other side, the arm of the sea, which resembles a L of 22km of length and 15km broad.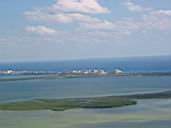 Here, of tens of hotels of luxury vis-a-vis the blue innoubliable, Caribbean Sea. Only veiled, a succession of buildings as far as the eye can see, be-that the holiday place dreamed in the Caribbean of which you expected
While going down more to the South while going along Riviera Maya until Tulum while passing for example by Playa LED Carmen , you will find places more cordial. Maintaining that resembles strong our dear larger Riviera French and it there thing of authentic! But the blue of the Caribbean Sea does not leave indifferent. More especially as the ' GULF stream' makes that the temperature of water, even in January, is extrèmement pleasant.