You are here :
Home
>
Pictures and tips for a good travel
>
Mexico
>
Island of passion
Passion Island
Excursion starting at the Villas Paraiso Del Mar Hotel
No matter where your destination is, all the hotels offer to their customers all kinds of excursions. Here's one of those offered by the staff sof the Villas Paraiso Del Mar.
Surely also the others hotels have a similar offer. The destination stay the same, but each one personalize the tour as he prefers.
After about ten minutes or so by boat...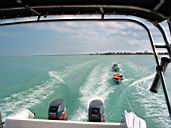 ...you arrive on this island, named " Passion Island ". It's a peaceful place where you'll have the possibility to see several species of birds.
A few-metres-high observatory offers you a panoramic view of the island.
We had brought some canoes, so we decided to go into the lagune to try to approach the birds.
The colour of the water is amazing.
There's onething I didn't tell you yet, that is the island is almost completely infested with mosquitos. Just near the picnic area, here's on the left bottom, it will take you only few seconds to be attacked by giant mosquitos, .. so remember to bring an insecticide with you.
Besides this detail, the tour is very agreeable and relaxing. It's not the best excursion for those who're in a hurry.