You are here :
Home
>
Pictures and tips for a good travel
>
Mexico
>
Chichen Itza
Chichen Itza
Here's the famous maya temple in Chichen Itza, next to the big city of Valadolid. It takes more than 3 hours to visit the site.
Once you passed the entrance, you quickly arrive on the famous pyramid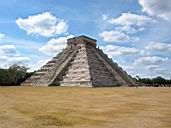 From its top you have a wonderful view on the site. It's so vast that you hardly understand its end. The jungle is just at the border of the most beautiful elements (and it keeps the smaller ones).
When you are on the top you've the impression to be really high, even if it's not true. In fact the stairs are very steeped and eithere you suffer from vertigo or not, you easily understand how dangerous is to walk on their side.
The Cenote which is in North-Eastern point. It's a hole with a kind of lake inside. Its diameter is some hundreds od meters. To go there, you have to take a path about 1/2 km long full of itinerant sellers. The prices are not that expensive, and if you don't have the occasion to visit another touristic place, you can buy something there, if you like it. We noticed some really nice decorated plates, but we thougt we could better wait to buy them somewhere else. Finally, we never saw the same plates anywhere else. It's a pity....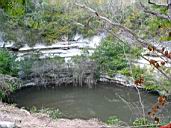 Coming back, you discover all kinds of monuments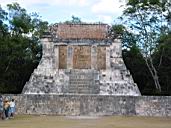 The impressive ball game. According to the guides, it's either the looser of the match to be sacrified to the gods or the winner, on the pretexte of offering the best to the divinity. We will never know the truth !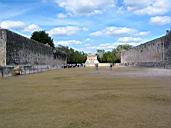 The famous observatory. Already in that period, mayas were studying the stars.