You are here :
Home
>
Pictures and tips for a good travel
>
Corsica
>
Beach of Cala rossa
Beach of Cala Rossa
Porto Vecchio - Corsica
I was unlucky this time again. A storm has arrived just during my stay. To make you better understand . it was the perfect weather to play fun boarding or go windsurfing.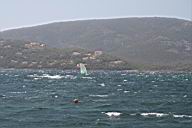 Despite it, i wanted to show you this beach because it has to be wonderful when the weather is good. The white of the sand is wonderul and the blue of the could make you believe to be dreaming..
This beach is probably very windy most of the time: But when it's not, it's the perfect place to relax.
Otherwise, it's the official beach of the caranella cala rossahotel residence. To arrive there you have to take a small path and to walk for about 10 minutes.
And for the 'fun', here's the arrival of a professional fun boarder.
Don't hesitate to send me your remarks and to tell me how this beach looks like when it' s sunny and not windy. If you have some pictures, you can send them to: webmaster.2 @ inooi.com