You are here :
Home
>
Pictures and tips for a good travel
>
Corsica
>
Santa Maria hotel
Hotel Santa Maria
Saint Florent, 30 minutes drive from Bastia - Corsica
In this very well-placed hotel, you have a wonderful view on a side of the harbour and on the mountains. It's quite close to the city center and the harbour, so you can go there by walk.
The rooms of the next to last floor have a spacious terrace facing the mountains and a little of blue. Needless to say that's very pleasant to wake up and see this surroundings, but this is also the perfect place to have a quiet rest in the afternoon.
The rooms that are on the other side have a view on a faded hotel.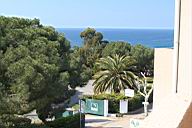 The bathroom is basic and clean.
The reception is unpredictable and depends on the people you meet. The first contact is often good, but when a problem comes, everything changes.
You need to know that the last floor is reserved for the seasonal workers of the hotel. And when these ones decide to have a party, they do it! It's useless to try to sleep if your room is in the next floor.
And if you complain about it, the receptionist tells you that this kind of things can happen, and that those "continental people" can sometimes be a bit noisy.