You are here :
Home
>
Pictures and tips for a good travel
>
Corsica
>
Beach of palombaggia
Beach of Palombaggia
Between Porto Vecchio and Bonifacio - Corsica
I've to admit it: that day the weather was not so nice. Fortunately there have been somme bright intervals which permitted me to take some nice photos. Despite it, you'll have just a small gimpse of the beauty of this beach, which beams with joy under the sun.
Finally, i commend this beach to everybody. So don't hesitate to go there.
To start, here're some photos lightly grey tint :
Even if the weather was not that nice, the children didn't have any problem to play in the sea...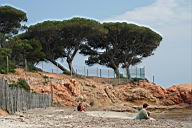 A chain link fence ? How could it protect a property which is almost in the sea ?
Ok, i stop the spiteful gossip right now.
Here the sun came out and suddenly the colours started to arouse.
Because the sky was not perfectly blue, it's difficult to have some photos which look like the ones in the magazines. But i assure you, the place is wonderful under the sun.
You'll find a beautiful beach there. I guess that during the summer it has to be full of people.
On the other side, some amazing pink rocks.
And further, somesmall beaches where you could find other sources of tranquillity. But be careful, the access seems quite difficult.
But don't worry: there're always the way to find a little of space in this wonderful piece of land.