You are here :
Home
>
Pictures and tips for a good travel
>
Corsica
>
Fleur de Sel
Restaurant La Fleur de Sel
gastronomic restaurant - Pinarello - Corsica
You are not used to read some infos about restaurants on this site, and this because there are others things i care more.
Anyway, i keened to thanks in a special way these restaurateurs.
The quality of the food is excellent there. If you add the beach of Pinarello in the background you have a wonderful frame. And there's also a litle terrace which permit you to well out of the seaside.

But above all it's the welcome i really appreciated. So if you pass by there, don't hesitate to visit them and to thanks them on my behalf for having prepared a meal for all my family whereas all the others shops were closed. (At the beginning of May,the touristic season touristique has not started yet and most of the corsicans don't wok yet. And try to see what happens if you ask them to prepare you a meal or just to give you what they have in their frigo....).
Anyway, this has been really useful for us. And we will always remember that meal.
But let's stop talking: it's time to see some images.
Here's the famous restaurant and its main room.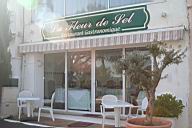 And the terrace so nicely decorated with its view on the beach of Pinarello