You are here :
Home
>
Pictures and tips for a good travel
>
Corsica
>
Lavezzi islands
Lavezzi Islands
Corsica - France
The islands of Lavezzi are one of the most beautiful places in Corsica. And like in Corsica, they're often surrounded from blue turquoise creeks which are unforgettable.

Waiting for a nice satellite photo, here's an 'official' aerial view of Lavezzi .
You can notice 5 wonderful creeks : 2 in the North, 2 in the South and 1 in the East.
Don't hesitate to have a walk around if you've the possibility to go there. During the off-season, like we saw when we were there, at the beginning of May, there was nobody and our boat was the only touristic boat that accoasted there, The ideal situation to make pictures.
In the Northern bay we can see some dead coprs, so during the summer there should be a lot of boats. In this case, there isn't anything better than take a swim in this blue turquoise water, and to enjoy these different views. Well have to come back again to make some more photos.
But let's speak a bit more about the island
Not a long time ago, a man-o'-war stranded on the coasts killing hundreds of persons. That's why there's a memorial and a cemetery.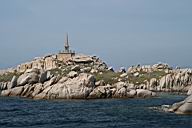 Fortunately there are also positive things to speak about. So let's go back to the sea and let's watch its wonderful colours.
I let the pictures in a bulk mode, it's up to you to choose the ones you prefer. You just have to click on the images to enlarge them and to double-click to come back to the main page.
Unfortunately the weather conditions weren't ideals: a storm had passed the day before and the sea was still rough. I can't imagine how the sea looks like when the surface is smooth. Because even like this, you've the feeling that the boats are flying on the water.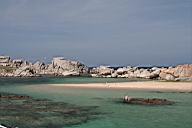 But there's not just the water, there's also a beach where's really nice to have a rest. But be careful, because the sun beats down very hard.
If you climb on the top of the rocks, in the centre of the island, you can see better the shape of the island. But don't try do it if you're not sporty. The access is quite difficult and it's easier to climb than to go down.
Going back to the side of the main beach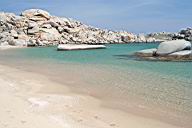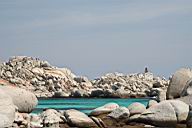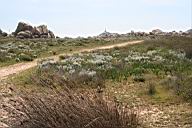 One of the Northern bays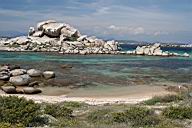 Here the place it's wilder, dirtier, even disgusting. But we know the laws for the seacoast protection.
The colours are a bit different, but it's anyway a pleasing to the eye.
So, do you like it? Don't hesitate to send me your comments and remarks.