You are here :
Home
>
Pictures and tips for a good travel
>
Corsica
>
Bonifacio, upp
Bonifacio - high city
Southern Corsica
Sea side view, the first impressive things are the cliffs and the "rock" which holds the city. It's impossible to imagine the number of streets, parkings, shops and building that are there.
Bottom view, the uneven and sheer coast is really striking.
Along the cliff we can notice some giddy stairs engraved on the stone. I dont know if it's possible to take them, but anyway I suggest you not to do it. It's crazy to think about all those people who have used that path in the past.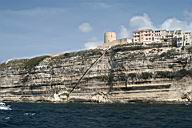 High view, over the spurs.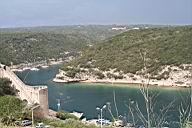 It's very impressive. The light, the brightness, the air, the view, the altitude, ... there's so many things to see and to feel, that's impossible to decribe them all.
When you look down, you can't not be touched by the sea colour, the height, the landscape, ...
You can also see the remains (still in good conditions) of the army transit. About ten years ago, this place was an important military base.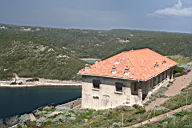 Then, and still on the side of the western point, there's an hotel which has an unobstructed view. I've never seen an hotel with such a wonderful view. The Santa Teresa hotel is on the cliff slope and it overlooks the Mediterranean Sea and the other sea-cliffs.
Some pcitures of the rooms that are on the southern side of the Santa Teresa hotel:
On the other hand, I'm not sure that it's possible, or at least easy, to open the windows. Anyway, each time the weather gets worse, the wind increases. During our stay, the weather was very nice, but still the wind was blowing strongly.
Here's some images of the western point of Bonifacio.
On the side of the eastern point as well, the view is very impressive.
To see the sea you need to go closer to the verge of the street, but when you're there, the height contributes to the beauty of the landscape. Only the sea gulls are not afraid.
Otherwise, the view looks like the one you have on the other side of the island: cliffs and sea as far as the eye can see.
There are several nice bars and restaurants. The welcome has been always very warm. As far as reception is concerned, Bonifacio was definitely the best. Unfortunately there isn't any terrace, maybe it's due to outstanding safety measures.
I don't have any picture of the lanes. They're often crowded and full of shops. Be careful, however: the ciy is very sloping so you need to be on form if you want to have a good walk.