You are here :
Home
>
Pictures and tips for a good travel
>
Corsica
>
Mobby Dick hotel, Santa Giulia
Moby Dick Hotel
Santa Giulia - Bonifacio region- Corsica
I'm sorry for the low quality of the pictures but the weather was not so good and so i couldn't obtain the same results than the images in the commercial booklet..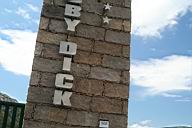 The location of this hotel is evidently perfect, because it's situated at 10 metres from the bay of Santa Giulia. The beach is big enough for everybody (especially if you compare it to the others corsican beaches). And when it's sunny, the turquoise colour of the sea drives you crazy.
The service of the hotel is excellent. Im thinking especially to the bar which makes a great frappuccino. To have a little rest in front of the sea in the teck gardens, the time to have an incredible frappuccino and to stretch my legs was an unforgettable moment. It's a pity that sometimes the shrubs hide a bit the view. Speaking again about the bar, it's open also to those which are not hosted in the hotel, so don't hesitate to go there taking a drink.
The decoration and the restaurant are worthy of a grand hôtel.

On the other hand, there's no internet: and the buildning would need some renovations. It looks a bit antiquated from the beach.
In a certain period (see the commercial booklet), there was even a pontoon ! Or maybe it's only because we were there at the beginning of May, which is off-season. And they could have removed it for the winter.
The entrance hall.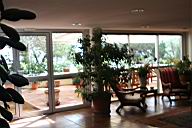 However there's a damper , a fresh water lake situated exactly behind the hotel. I was never bited during my stay but i'm almost sure that especially during the night you should better use some precautions. As an example, we were some kms north in the same situation and we're not hanging around during the night