You are here :
Home
>
Pictures and tips for a good travel
>
Dominican Republic
>
Barcelo Talanquera Beach
Hotel Barcelo Talanquera Beach Resort ***
in Juan Dolio (photos taken on Mai 2003)
the hotel
The hotel is quite nice and agreeable. The only flaw is that we had a room with some plumbing defects (no water in the sink and just a trickle in the bathtub... but after changing room it was pretty ok), and moreover we're not the only ones to have these kind of problems: somebody got inundated each times he was having a shower. In the end, this hotel should need a good plumber (appears that there's lot of unemployment there !!!) Anyway nothing serious enough to waste the holidays. There a honest value for money. Just to know: there was a neighouring hotel (50 metres distance) called "Barcelo Decameron Juan Dolio" (same group and same category, so same price too) which seemed more attractive to us.
The g eographical collocation of Juan Dolio permits some jaunts to lots of close sites : Bocca Chicca, San Pedro, Santo Domingo, Catalina Island...
Another detail: in spite of what it's written on the official description of the hotel, this hotel doesn't have a tennis court ( you can always find an agreement with the other hotel, but it's a bit complicated...).
Some views of the swimming pools :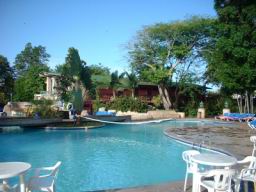 Beaches around the hotel. The photos were taken during a bike tour (the hotel kindly lended the bikes to us) : super !.
Ride on all-terrain vehicles rented outside the hotel (just to pay a little bit less expensive).
This ride permits you to visit the inland, see some sugar cane fields, cross many farmer villages,etc... It's a cultural, ludic and sports tour
Official description
BARCELO TALANQUERA BEACH 3*** - Juan Dolio
Location: the hotel is situated on the beautiful beach of Juan Dolio and it's surrounded by a tropical garden. This complex is within 50 minutes distance from the capital and 60 minutes from the airport, in Juan Dolio.
Services: the complex consists of 435 rooms set in rows of bungalows (with just one floor) and in buildings (with several floors) in the middle of the gardens. Restaurants: there're 4, 2 of which are à la carte: the Miramare (italian), the Ecrevisse (french). 2 in form of buffets: El Cocolo and El Buloya. 1 beach bar, 2 bars, club, shops, exchange office, car rentals, 5 swimming pools (2 for children), 2 jacuzzis, beach towels available at the swimming pool and on the beach.
Accomodation: really nice rooms, telephone, bathroom/WC, TV satellite, air conditioning and safe (to rent), balcon or terrace.
Entertainment: Mini-club for children from 4 to 12 y.o. from 9 a.m. to 15 p.m. All-day-long entertainment for the adults.
Free sports activities: Tennis, sailing, windsurf, cycling, snorkeling, beach volley, kayaks, pedalos, archering.
Sports activities with a charge for admission: diving (PADI certification courses), golf, day trips, fishing.