You are here :
Home
>
Pictures and tips for a good travel
>
Dominican Republic
>
Melia Tropical, Punta Cana
Hotel melia tropical ****
in Punta Cana
A wonderful hotel facing the vaste and beautiful beach of Bavaro. The complexe is very big and you need to take a shuttle to move from the central area with its boutiques, restaurants, casino, tennis courts and bars, ....to the seaside area which includes the swimming-pools, the children area, the rooms and the private beach.
All the rooms are in the seaside area but 7, which are in the central one. On the beach there's also a restaurant with a very nice view on the sea.
It's useless to say that the hotel is very-well kept. Everything is high-quality and clean, and the customers feel confortable because they have the impression to have a lot of space at theirs disposal.
The 3 swimming pools, one of which is for children.
And the bar, where you can have a drink keeping the feet in the water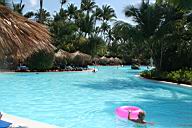 There're several activities for the children, a mini club, sports, a swimming pool, and such others amusements that they won't surely get bored.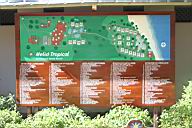 The entrances of the rooms face the gardens.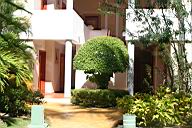 The pools and the gardens, which always look very nice
You'll see a lot of flowers and birds in the park
The entrance hall next to the main entrance
The long path that leads from the central part of the Melia Tropical hotel to the seaside zone, passing by the restaurants, the casino, etc. A board tells yu that it takes about 14 minutes walking to go from the Lobby area to the beach one. Fortunately there's a little train that makes that tour and which passes every 15-20 minutes.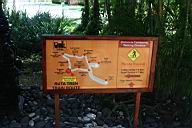 Here're some photos of this path