You are here :
Home
>
Pictures and tips for a good travel
Viva Windham Hotel in Cape Samana
Las Terrenas - Cape Samana - Dominican Republic
The hotel is located at three hours from the airport of Puerto Plata, that's quite far, especially if you're tired of travelling. One you're there, the familiar atmosphere will make you feel immediately comfortable.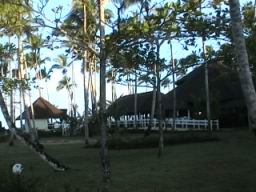 The swimming pool
The gardens, which are always well-kept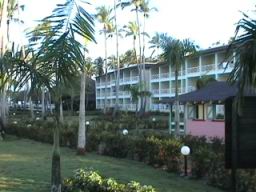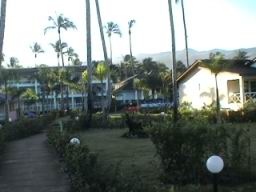 The beach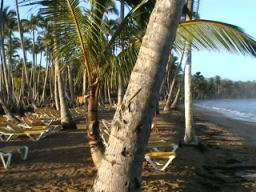 The weather is not always so perturbed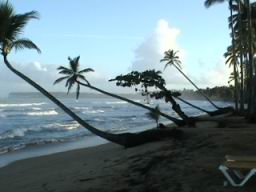 The children area: it's a mini club which organize activities for the young ones
And then, a small tour of the Dominican Republic, which is not very performant yet in terms of electricity systems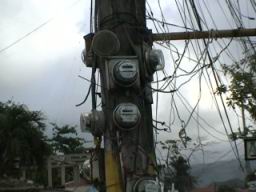 Here're the odd naïfs paintings that you can find everywhere
A bit of humour.. surely it has been done by a french man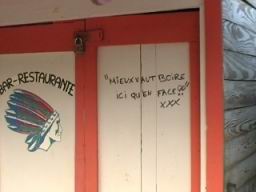 * Official description by the site marsans.to


In a privileged location in the Coson Bay, in a luxuriant vegetation and a wonderful beach facing a turquoise sea, this hotel harmoniously fits into a heavenly wild setting. This is the perfect starting point to discover the Samana Peninsula and enjoy the show of the whales swimming in the bay. It's composed by small three-floors high buildings surrounded by nice gardens. This isolated and hidden place it's like a dream which had become reality for the lovers of the relax and idleness.

Rooms
206 superior air-conditioned rooms with bathroom, , hairdryer, telephone, cable television, safe (with charge), Internet connexion, terrace or balcony.
10 familiar roomswith one bedroom, a living room with a bed-settee and a bathroom.
2 children sharing room with 2 adults is free-of-charge ; 2 children or 2 adults sharingthe familiar room with 2 adults is free-of-charge.


Leisures and activities
Many restaurants suggest you a diversified menu :
« Cacao », buffet restaurant which offers several international dishes, open from 7 a.m. to 10p.m.
« Mediterraneo », italian restaurant "à la carte" with reservation, next to the beach which offers a large variety of pastas and pizzas, open from 7 p.m. to 10 p.m.
« Bambu », oriental restaurant "à la carte" with reservation, with chinese, malaysian and indian speciality dish, open from 7 p.m. to 10 p.m.
Table wine and national drinks are included during the meals..
There're also many bars, among which:
« Atlantico bar », bar where you can try some delicious cocktails, open from 10 a.m. to 2 a.m..
« Beach bar », bar next to the beach opne from 10 a.m. to 11 p.m.
Night club, open from 22 a.m. to 2 a.m, national drinks included.
Internet café, beauty salon, hairdresser, medical service, boutiques, laundry.
Shuttle to Las Terrenas (a return ticket per stay included, from Monday to Friday, for a minimum 7-nights holiday).
A beautiful swimming pool, gardens.
All the activities Toutes les Activités which appear in the all-inclusive formule.
With charge :
motorized sports, boat excursions, horseback riding.
Car, four-by-four and motorbike rentals.
Possibility to make excursion.


All-inclusive formule
The formule includes the full board, national drinks and snacks at will, as well as the following activities (subject to the availability) :
Ping-pong, darts, board games, petanque.
Volleyball, football.
The nautical sports center proposes (by means of a deposit) : introduction to diving in the swimming pool, sailing, catamaran, hobie-cat, canoeing, sailboarding, diving with helmet and snorkel.
Beach towels; deckchairs either on the beach or on the swimming pool.
Daily schedule of several activies, including aquagym, aerobics, dance courses and lessons of Spanish, sports during the day and shows by night.



For the children
Swimming pool with children basin, playground, mini-club (4-12 y.o.) open from 9 a.m. to 5 p.m., daily activities, baby-sitting with charge (sur demande at the réception).




Discover Las Terrenas

At 30 km from Cape Samana, there's the small village of Las Terrenas which is quite touristic, but still authentic. The beaches here seem never-ending and are perfect for a walk or a horse-ride. In addiction to sports and nautical activities, you can enjoy the warm ambiance and the intense nightlife.


The others Viva Windham hotel - updated the 1st December 2005
- Viva Wyndham Tangerine, Cabaret - Puerto Plata
- Viva Wyndham Dominicus Palace and Viva Wyndham Dominicus Beach, La Romana
- Viva Wyndham Playa Dorada, Puerto Plata